Other services
Frost Concrete Services has its own 3t excavator and bobcat and a brand new line pump all available for general hire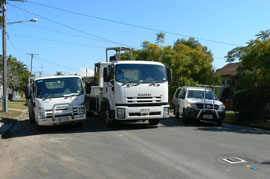 So if you need a site clean, want to dig some trenches or need to do some block fill or footings, get my fully qualified operators to make the job easy. P.S Get us to do your concrete slab work and ask me about getting a discounted rate on all general hire.
If you are in need of the services of different tradesmen be it builders, draftsmen, house raisers, plumbers, engineers and many others contact us and I would be only too happy to put you in touch with some of the people I have dealt with over the last decade.
If you are in need of a fully comprehensive Design and Drafting Service that provides an excellent quick quote service for building costs click on to nqcad.com.au and see what they can do for you.