Concrete Driveways
Frost Concrete Services provide all types of driveways and paths, from plain or coloured concrete to exposed aggregate, catering to all budgets.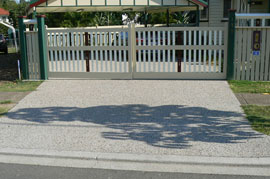 Again, we pay particular attention to engineering details with upgraded steel and concrete strengths providing you, the customer with a quality, structurally sound finished product.
Exposed aggregate driveways have certainly stood the test of time and there are some wonderful stone mixes available that are very durable and with a clean now and again can look as good in 20 years as they do when new.
At Frost Concrete Services we believe in giving our customers the correct advice, the right price and the outcome you deserve. Click here and check out the Hanson Aggregate range.
So if you want the best looking and longest lasting driveway in the street then
contact us now for a free quote now.